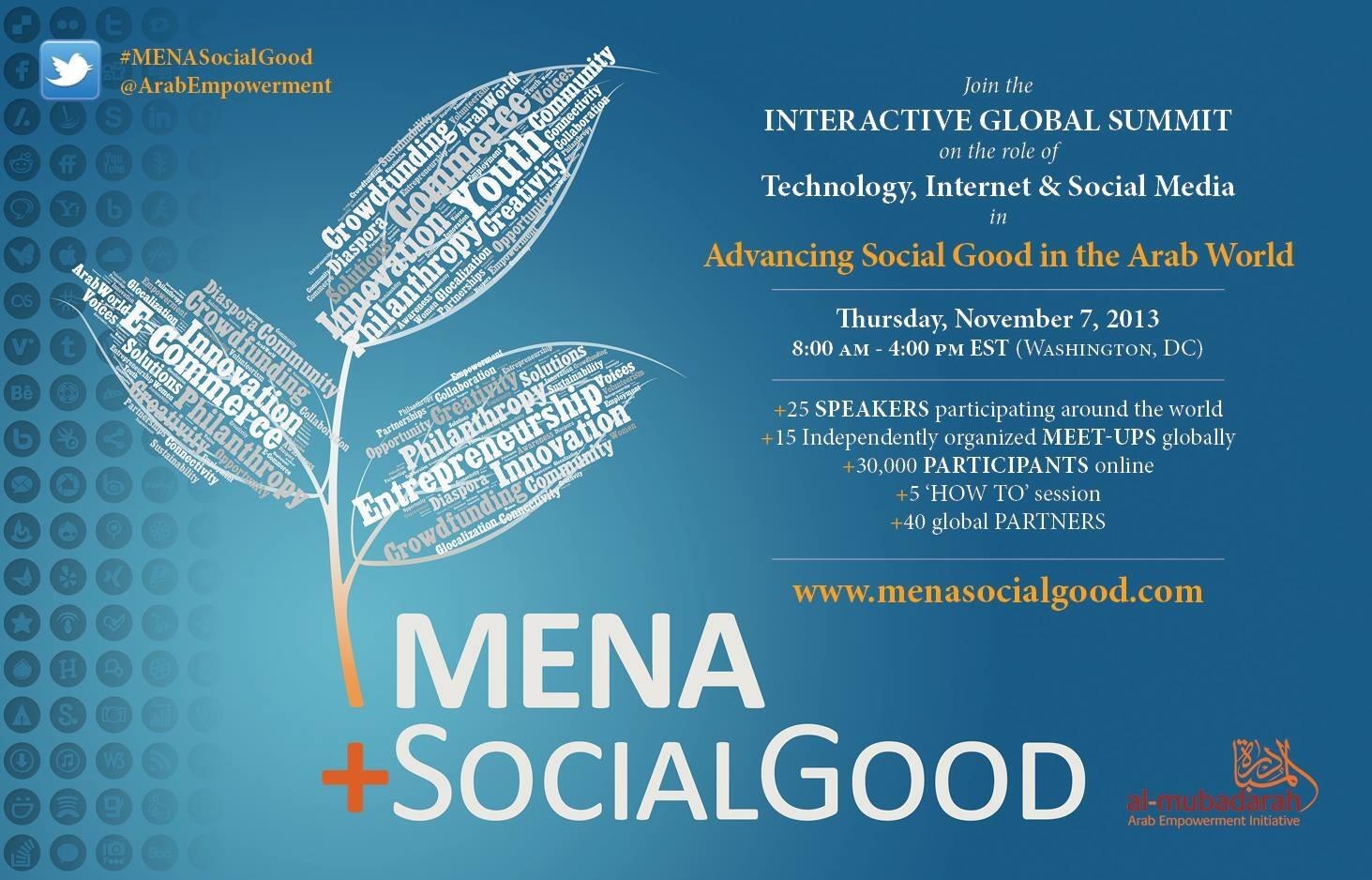 MENA+SOCIALGOOD
GLOBAL VIRTUAL INTERACTIVE SUMMIT on the role of ADVANCING SOCIAL GOOD IN THE ARAB WORLD
An interactive virtual Global Summit on the role of the internet, social media & technology in enabling Social Good and shaping the future of the Arab World.
THURSDAY - NOVEMBER 7, 2013
08:00 A.M - 4:00PM EST
SUMMIT SNAPSHOT:
Main Event Hub: WASHINGTON DC; +25 SPEAKERS participating virtually from around the world through Cisco partnership; +21 INDEPENDENTLY ORGANIZED MEETUPS in over 17 countries; +30,000 ONLINE PARTICIPANTS;+40 GLOBAL EVENT PARTNERS
ABOUT MENA+SOCIALGOOD
In partnership with the +SocialGood initiative headed by the UN Foundation, United Nations Development Programme (UNDP), Bill & Melinda Gates Foundation, The Case Foundation & Mashable, we proudly announce the inaugural MENA+SocialGood Summit: An interactive global exploration on nexus between technology, Diasporas and social good in the Arab World.
Often when we hear about the Middle East and North Africa ('MENA'), news is dominated by talk of political and social turbulence which may push corporations, institutions and individuals away from considering investment and engagement.
The Arab world is home to more than 350 million people with a diaspora 14 million of which 5.8 million reside in Arab countries. According to World Bank, in 2009 Arab countries received a total of 35.1 billion USD in remittance in-flows. According to Christopher Schroeder in "Startup Rising: The Entrepreneurial Revolution Remaking the Middle East": "While the Middle East lags other regions in Internet penetration, the number of Internet users in Arab countries has been growing faster (23% annually versus a global 14%), and the total is expected to exceed 140 million next year. Those who are online tell a remarkable story of change over the past five years, with clear ramifications for the future. Eighty-three percent use the Internet daily, and half of those for at least five hours a day. Notably, 78% said they prefer the Internet to television, and 44% say they spend less time meeting friends face-to-face than online or on their mobile devices."
Innovation and entrepreneurship has opened doors to partnerships and positive engagement in MENA in the past years. Social media is playing a large role in mobilizing people to aid in development in MENA in areas of crowd funding, volunteerism and social engagement.
MENA+SocialGood is dedicated to exploring this nexus and identifying how technology can enable engagement to catalyze positive impact in MENA. The inaugural Summit will be a gathering of social entrepreneurs, philanthropists, technology developers, NGOs, Governments, thought leaders, and others vested in this space. This global conversation aims to spark collaborations, foster innovation, and promote partnerships and constructive conversations that develop far beyond the Summit itself.
+SocialGood unites a global community of innovators around a shared vision: The power of technology and new media to make the world a better place. This is a community of connectors, bringing together ideas and action in our social media era. The +SocialGood engagement platform provides a space for a truly global conversation to take shape—a place where connectors can collaborate, share best practices, influence local and global agendas, and find new ways to translate their vision into action. As such, Al-Mubadarah will be hosting an event in Washington, DC that integrates diverse partners and global communities using web based technologies for conversations about social and economic development in the Middle East & North Africa (MENA).